With business and personal travel now nearly back to "normal", organizations have increased their travel activity. Many corporate clients are looking for ways to encourage employees, clients, prospective customers, and business associates to travel more.  Using a reputed car service to the Atlanta airport not only gives hopeful travelers the confidence to travel, but it also adds another "star" to your brand and image as a caring, considerate business partner. 
Judging by the Numbers
The latest data from the U.S. Bureau of Transportation Statistics (BTS), indicates that passenger flight arrivals and departures to/from Hartsfield–Jackson Atlanta International Airport (ALT) are up by 107.81% and 108.30% respectively year over year. While the latest figures (hovering around the 35,000k mark) are still off the 2018-2019 highs (between 44,000k and 45,000k), the latest data (Jan 2022) indicates a higher trend than the prior months (Nov 2021 = 32,000k; Dec 2021 = 33,000k).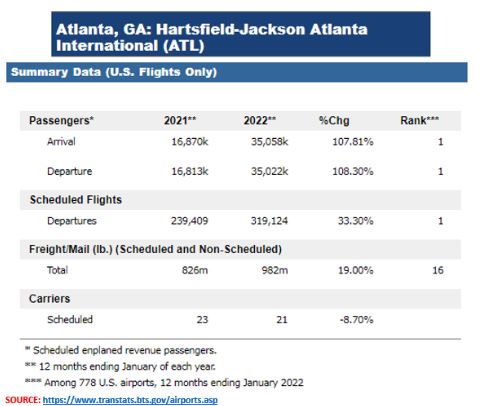 This heightened activity has also increased the outlook for car service to the Atlanta airport, and from ALT to key destinations within the city and beyond. Because business activity is picking up, corporate clients across every sector are making sure their employees and guests are least inconvenienced during their travels. 
Beyond Just Convenience
With virtual meetings and remote calls showing increasing popularity over the past year or so, business travelers are looking to justify making that visit to Atlanta. Looking forward to a convenient travel experience is one reason that many of your business partners might finally decide to make that all-important trip. However, in addition to the convenience factor, corporations such as:
– Comcast
– ABC News
– ADP
– Mercedes-Benz
– Deloitte & Touche
– Marriott Hotels 7 Resorts
– Equifax
– Accenture
– Verizon
– Procter and Gamble
– Chick-fil-A
– …and many more!
…also look to maximize the time of their guests when enroute from or to ALT. Partnering with a reputable Atlanta car service to airport destinations allow them to do just that. Guests never have to wait in long queues, especially during the height of travel season, to get from or to the airport. And unlike privately owned cars or minivans, corporate limousines have ample elbow and leg room for busy executives and guests to work, relax or even take a nap after a long in-flight working session.
When using a reputable airport limousine service, guests of corporate clients receive point-to-point white glove service. Unlike some ride-hailing apps, all the chauffer's working for the limousine company are licensed, trained, and experienced professionals. And, throughout their trip, they can stay connected online and working – like they've never left their office!
So, as a client of the car service from Atlanta airport to any destination in the city or beyond, what does this mean for you?
More than just convenience, it means that your reputation and your brand are always in good hands. The airport limo service delivers Politeness, Punctuality and Professionalism. The chauffer's and the ensuing ride from/to the Airport, will leave a lasting positive impression on your guests. Whether it's the start of a new business relationship, or an ongoing partnership with a VIP client, using a car service to the Atlanta airport is the ideal way to cement that relationship.